I was thinking about Pan the other day. Peter, that is. The infamous idea of the child that never grows up. He continues to bring a new perspective to the simplest of ideas, he celebrates the mistakes that make us unique, and praises us for standing out. Pan is an idea. An idea that champions us to be different, to not fit into the mold because the mold can not handle how beautiful the individual is.
Matthew Woods is Peter. He always has been. I met him when I was 18 when he still had a mohawk and would sneak me beers. We lived out of a van travelling around the country working for a non-profit, trying to make the world a better place. The idea that stuck with me through that time, and to this day, is that all you need to do to change the world is take care of those that are around you. No matter the familiarity or strangedom. Matthew loves better than anyone I know, and anyone who knows him well knows that for a fact.
Matthew's art is a celebration of simplicity, love, and the freak show that we all are. His life is a statement that clearly defines who he is.
Matthew is a boy that is designing his own world- one that turns society upside down, and forces you to think differently, and while he continues to do so I'll live in that world.
Fur duster, Cheetah print suit, blue Dr. Martins, and a preppy Cardigan. What was the thought this morning?
Do you know Amanda Palmer? I just read her book, it's called The Art of Asking. It's a memoir and also a how to about, "Fuck the rules and just make it up as you go."

She talks about learning what you need to create art. If you want to lock yourself in a room for 3 weeks and get piss ass drunk and just black out over and over and over, and thats how you create than that is how you create. For her, she needs to have no people around and this that and the other thing, but what struck me most about it was that she said, "I need to look like and artist, it makes me feel like an artist." And I feel that too. which is why I often dress like this. I need to look like an artist. it makes me feel like an artist.
Art is about aesthetics.
A group of guys pass us and one shouts out "I was going to wear that same outfit today!"

"You should have!"

Seconds later he runs over to take a photo with Matt.

That's it! Your tone is just different, you come into a situation with this ray of optimism that says, even if you were making fun of me it was probably because you wanted to be a part of what is happening in my little universe.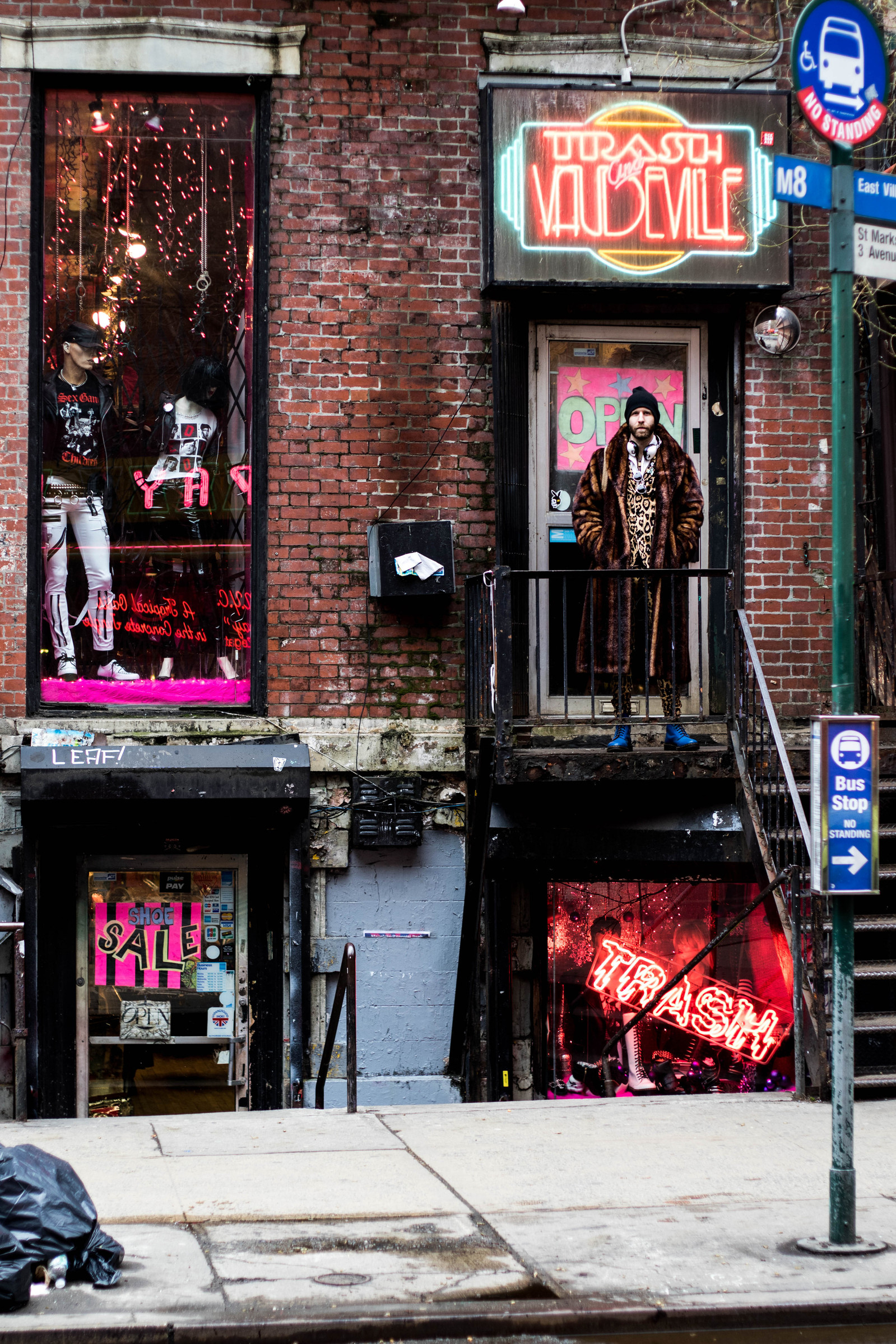 It's strange how moments and decisions that we made years ago, brought us to where we are today. If our paths would of never crossed, I wouldn't be here today, and this moment wouldn't be happening.
Have you ever seen Donnie Darko?
Yea.
I mean its cheesy but there is the running theme that there are no coincidences. and I very much like that line of thought. Of course that wasn't a coincidence, none of it is, it never is. and in the same breath I don't like to think that there is some sort of god lining everything up. you know? there's like a great creator deciding my fate for me.
What would you say to people who think those are the same thing?
Its most common to think those are the same thing, right? I guess what I don't like is feeling like i don't have control over myself. I like to decide my own fate even though I also like to believe in "quote on quote", fate. Both the freedom of choice and the comfort of a guide.
It's an interesting juxtaposition of ideas. I was thinking along those lines today when I was coming here. I passed two women sitting in the 14th street station. They had a stand and a sign saying, "What does the bible really teach?" and I thought to myself, "I wonder if me and those old ladies had different opinions of what the bible teaches, because we might not actually." To me, its that gold rule, do unto others as you would have done to you. The bible teaches what you want it to teach. Its all a matter of interpretation.
Project wise, what have you been working on and what has been shaping the direction of your art recently?




Lately I have been working on a series of drawings for instagram. It's a character I created called Pumpkinhead and he is counting down the days until Halloween. He's kind of me. Sometimes his life reflects mine, sometimes he does his own thing. It's a little bit Charles Schulz, and a little bit Tim Burton, with a dash of Edward Gorey. It's an experiment for the time being that I think will slowly grow into more.




Next I want to do something with cockroaches. I've been photographing them dead on the ground for a while but I think there is more there. Catherine Chalmers did a whole series of cockroaches being executed that I love. I think it's fascinating that they are so common and so harmless but gross everyone out. Thats another experiment to work on.




I always have a lot of projects going at the same time. And I pick them up and drop them regularly. My work goes in the direction of my interest. If it becomes a chore I stop doing it. I love collecting tshirts so I've been thinking a lot about that too. Who knows, ask me again this time next year and maybe my answers will be totally different.